Chevy Tire Rotation Service in Blue Springs, MO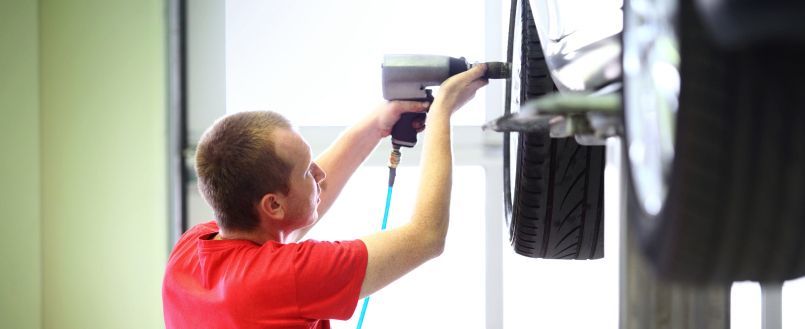 Tire Rotations Are Essential for Vehicle Safety and Savings
Getting a new Chevy is an exciting experience, and chances are you drove it all around to show your friends and family. Now that you have owned the car for a while, the initial interest may have subsided but your attention to its maintenance shouldn't. Getting your tires rotated is a great benefit for your overall driving quality and allows get the most life out of your tires. Come to Molle Chevrolet for your Chevy tire rotation service in Blue Springs, MO, and see what a difference it makes.
Driving causes uneven pressure and tread wear to your car's tires, which can be a difficult to notice while you are driving, but will end up costing you a lot of money if not attended to. Not only will your tires wear out faster, leading to the need for expensive brand new tires, but uneven tire wear can also lead to decreased gas mileage, causing you to fill up your tank more often. Safety is another concern becuase uneven tire tread means poor traction and handling. Go online to see our wide range of service hours open to suit your schedule and make an appointment.
You may be wondering how to tell when you should get your tires rotated. It does depend on your vehicle, so check your Chevy Owner's Manual for exact specifications. If you can't find your Owner's Manual or are unsure of when you last got your tires rotated, a good guideline is to get them switched every 6,000-8,000 miles. For convenience, many people choose to get it done when they take their vehicle in for an oil change, a service we also offer at Molle Chevrolet.
When you use our Chevy tire rotation service in Blue Springs, MO, you can feel confident in your vehicle's care. All of our service technicians are certified and trained in their specific field to provide the best quality, and our connection as a Chevrolet dealer ensures we know exactly how your model should be handled. Your tires will be removed and inspected for wear, as well as air pressure and alignment. These are the key elements to providing a safe and efficient ride.
Our dedication to customer service is available to you from the comfort of your home thanks to our detailed website. Through our service department page, you can conveniently schedule a service, look for special savings, and use our unique Ask a Tech form that puts you in touch with our technicians. Here at Molle Chevrolet, we are here to provide for you with our Chevy tire rotation service in Blue Springs, MO. Treating customers like family has been our motto for over 40 years in the industry, so visit us today and experience the Molle way!